SMB Marketing – An Origin Story
Many people, especially those that knew me early in my career, ask how I ended up starting a marketing agency.  I realized that it was a reasonable question and hope the answer sheds some light on who I am, my experiences and how SMB Marketing can assist small businesses in growing to their full potential. 
Unlike most traditional marketing agency owners, I  don't have a degree in marketing or graphics design and quite honestly I was more of a geek than an artist.  I graduated with a double major in computer science and business but I was much more about computers than I was business at the time.
I'll save you all the boring details about my early days as a software engineer and fast forward to the first time I gained a true appreciation for the power of marketing.  I was part of a new and unique organization within Xerox that responded to government Requests For Proposals (RFP's) utilizing non-Xerox equipment.  Quite honestly the organization was a mess, most of the employees were Xerox lifers who had little knowledge about other industry products and solutions.  We used formal processes (which Xerox was great at) but without real practical experience we SWAG'ed (Stupid Wild Ass Guessed) most of the proposal details.  What we lacked in actual content was more than made up for with amazing graphics, and professional marketing literature that resulted in a delivered proposal that would likely impress anyone that saw it.
We won our fair share of contracts, likely not because we were the best but because we looked the best.   It became obvious to me that in many cases the presentation was just as important as the content.   As my career progressed from engineer to management that concept was always a guiding principle but never did it come into play the way it did when we started our first business in 2003, Imaging 411.
Imaging 411 was a document imaging company that sold and serviced scanning solutions, with a major focus on service.  My business partner at the time (Gary Armstrong) and I boot strapped the business and never took on corporate debt.  When we first started, we had little money, zero full time employees and we couldn't even get a corporate checking account.  Yet, we were successful  because; 1. We were great at what we did,  2.  We provided the best customer service in the industry and 3.  We had great marketing so no one ever knew how much we were struggling to keep the business going.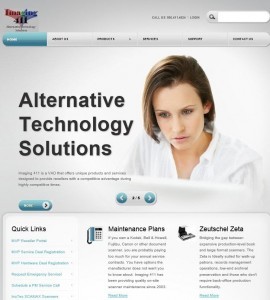 The marketing strategy was to portray our new small business as a much larger company to help put potential clients more at ease doing business with us.  I created quality marketing literature, a robust website with an aggressive SEO and Google Adword campaign plan that enabled us to consistently appear in the top 3 results for our target keyword searches, often over companies that were 10,000 times our size.
We rented office space in a shared office complex that provided us with an administrator to answer our phones, a professional looking conference room and other amenities to help support the image we had created through our marketing initiatives.  We quickly started winning business and adding staff to service our customers.
To further enhance our image of providing the best customer service experience in the industry, we developed the "Risk Free Guarantee".  This guarantee was part of every service contract we sold and enabled our customers to cancel their contract with us at any time without penalty if we failed to meet their customer service expectations.  We're proud to say after 10 years of being in business we never had a single customer enact the clause.  I include a similar clause in SMB Marketing contracts as I never want a client to feel they are forced to do business with us.
Over 10 years we experienced significant growth to the point we had over 40 employees covering most of the 50 states we serviced equipment in.  We continued to invest in marketing to ensure we maintained our image as one of the top businesses in the industry and as a result Hitachi reached out to us and asked us to partner with them to launch a new scanner in the United States.  I developed a dedicated website for the product as well as product literature, manuals and a marketing campaign that included trade shows, e-mail blasts and in house produced videos.  They have since expanded their product line and continue to sell the scanner here in the US.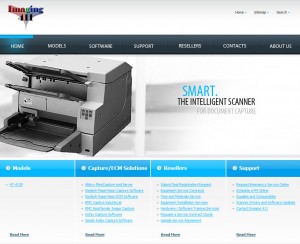 In 2013, we sold Imaging 411 to a competitor and I was forced to embark on a new chapter in my professional career.  I loved the experience of growing a small business, especially the marketing aspect, so much that I decided to focus on marketing and in 2015, SMB Marketing was born.  I wanted to work with small business owners who are great at what they do but maybe lack the time or marketing expertise required to maximize their business the way Gary and I did with Imaging 411.
In the last 5 years I've gotten to work with some amazing small business owners.   I feel blessed that I not only get to experience the excitement of growing my own company but share in the excitement of assisting my clients to grow their businesses as well.
While I did not take the traditional path most marketing agency owners have, I feel my past experiences, especially with Imaging 411, make me more aware of the constraints small business are under.  As a result, I fully qualified in leading the development of effective marketing campaigns (both digital and analog) that are based on my clients specific business and budget.